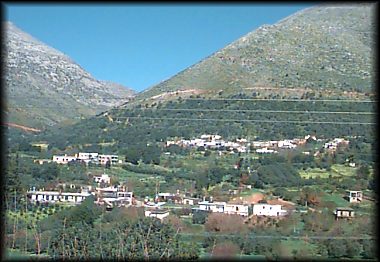 Panoramic view
The village is built at the foot of the two Kouloukona heights. The settlement stretches out along the old national road, where it developed after the opening of the new national road. It comprises cafes, tavernas, and accommodation facilities included in the Countryside Tourism programmes.

It is worth your while, however, to visit the old village, climbing there on foot or by car. Picturesque, narrow streets, wonderful old houses with interesting architectural elements, old cisterns and churches will reward your efforts.

The old village built on a height of 260 m above sea-level has 175 inhabitants and the settlement along the old national road, known as "Kampos ton Apladianon", has 78 inhabitants. It is 40 kilometres away from Rethymnon and is located at the foot of the highest peak of the Kouloukona mountain in the Tallaios range.

Historical background
Already as far back as 1368 we find a mention of the Aplada family, the founders of the present village and in the topographical maps of the Civil Engineering Services of Rethymnon it figures as Pladiana. The settlement is not mentioned in the 16th and 17th cent. documents. In the 1881 census, Apladiana is attributed to the commune of Garazo, with 57 inhabitants and in 1900 it is referred to as the Apladiana Commune which, together with the Cheliana settlement, had 153 inhabitants.