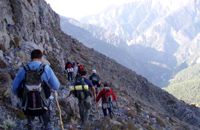 Mountaineering Club of Hania
Hania
The Mountainering Club of Hania was established in 1930 and is a member of the association of Greek Mountaineering Clubs. The club is actively maintaining the European mountaineering path E4 which starts from Portugal and ends in Kato Zakros in Crete. The activities of the club include mountain climbing, skiing, canoing down the rivers in the Western Crete, speleology and more. Also the club organized the first mountain bike race in Crete in 1993 and intends to organize more races.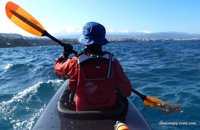 Sea kayaking around Akrotiri
article by Stelios Asmargianakis
An article where Stelios Asmargianakis describes his experience of sea kayak, through a two-day trip to the north of Chania as it took place in mid February 2012. The whole journey is about 40 km, and is characterized by the absence of beaches for easy approaching and relaxing as well as exposure to the elements of the Cretan Sea.