Found 3 - Showing : 1 - 3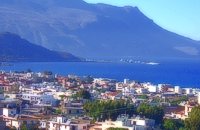 Kasteli town
Kissamos, Hania
The beautiful town of Kissamos is located 42 km west of Hania and it is the capital of the Kissamos county. Kissamos is surrounded by beautiful landscape and has about 3.000 inhabitants. Kissamos is not a crowdy tourist resort, its development is based mostly in the wine and oil produce, and the agricultural products.
Kissamos is built along a wonderful sandy beach. It is located where the ancient city of Kissamos stood. With Kissamos as a starting point you can visit the archaeological sites of Falassarna and Polyrinia, the Gramvoussa isles (pirate isles), the beautiful Georges of Topolia, Sirikari, the lagoon of Balos, the medieval villages, etc.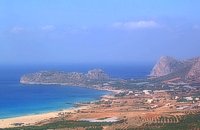 Falassarna
Kissamos, Hania west coast
Falássarna (GR: Φαλάσαρνα)is a quiet resort, with small hotels, apartments and taverns, close to the wonderful sandy beach. There are also many spots for free camping. Falassarna used to be the port of ancient Polyrinia. The peak of the city of Falassarna was during the Hellenistic period and at the time the city had its own coin. Its port was closed and surrounded by walls and it was connected to the sea with a canal.
Image Library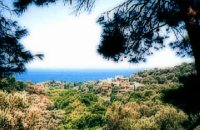 Sfinari village
Kissamos west coast
The village of Sfinari is blessed with many water sources so it is overwhelmed with trees and flowers. Fresh fish is guaranteed as it abounds in the sea around the village, dolphins are often seen in the sea. To the rocks near the beautiful beach of Sfinari come the seals to give birth to their babes. The village offers many rooms for accommodation and there are taverns in the village and by the beach in the trees that cover the sea side.
Image Library
Area of search
Show all
Regional interest (16)
Sight Seeing (4)
Geography & Nature (5)
Towns & Villages (6)
Beaches (5)
Resorts (3)
Culture (4)
History & Archaeology (5)
Museums (1)
Monasteries (2)