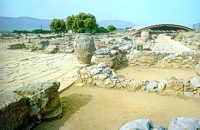 Malia Minoan Palace
Archaeological site in Malia, Iraklion
The Palace of Malia, which covered an area of 7,500 sq.m. , was the third- largest of the Minoan Palaces and is considered the most "provincial" from the architectural point of view. The first Palace was built in 1900 BC and destroyed in 1700 BC when a new Palace was built. Following the fate of the other palaces in Crete it was also destroyed in 1450 BC. and the present ruins are mainly those of the new palace.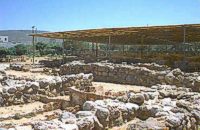 Minoan Megaron
Nirou Chani, North - East Iraklion
A Luxurious, two-storey house, built of large ashlar. The walls were strengthened by timber-frames and covered with a thick layer of plaster and marble slabs. The building has a paved courtyard, a shrine, storerooms for agricultural products, a staircase, and rooms with benches. It has been interpreted as a High Priest's house, due to the numerous ceremonial vessels it contained.
The house was probably built in the 16th century. C. (MM III period) and, after its destruction by fire in the 15th century BC (LM IB period), was finally abandoned.
The "Minoan Megaron" at Nirou was excavated in 1918 by St. Xanthoudides. In 1960, under the supervision of the Ephor of Antiquities N. Platon, the site was fenced and the building restored. The monument is consolidated and cleared at intervals by the 23rd Ephorate.

Visiting Hours:
Daily: 8:30-15:00, Monday: closed
Entrance Fee:Free Admission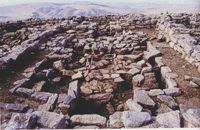 Smári Akropolis
Pediada, Iraklion
Smari has a very long history and was inhabited, according to reliable sources, from the proto-Minoan period onwards. The archeological relics in the Akropolis of the hill called Profitis Elias, excavated under the direction of the Archeologist D. Hatzi Vallianou, indicate a continuous human presence from the Middle-Minoan period to about 630 B.C.