Crete : Geography & Nature
Found 3 - Showing : 1 - 3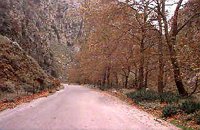 Thérisso Gorge
Kydonia,Chania
Within a few distance from the village of Perivolia, starts the gorgeous canyon of Therisso (Theriano faragi or Eleftherios Venizelos Gorge), which leads to the village of Therisso at 580m a.s.l.
Six kilometers long, the gorge stretches like a snake, with high, almost vertical walls, and rich flora and fauna.It was a difficult to trespass gate, for the invaders, and that is the reason why Therisso was the center of the Cretan rebels during the 19th Century.
The authorities has recently renamed the gorge, giving to it the name of the great Cretan statesman, Eleftherios Venizelos, who's name is strongly related with the area.



The area of Akrotiri
Hania
A guide to the area of Akrotiri. Tourist facilities, regional information and image gallery. Akrotiri with its scenic landscape provides a relaxing, refined country break away from the pressures of urban life. Its numerous monasteries, from the oldest in Crete, played a significant role in the history of the area. Gorges of outstanding beauty offer a unique hiking experience, breathtaking views and the joy of exploration...
Image Library

Park for the Preservation of Flora & Fauna
Akrotiri, Hania
At a time that living organisms are disappearing at an alarming rate, especially through habitat destruction, the Park for the Preservation of Flora and Fauna of the Technical University of Crete, which extends to 30 hectares, constitutes a small but important area where native plants and co-existing animals are protected and can develop without human intervention.
Up to now 250 different plant species that grow naturally in habitats of the Park have been identified, while their systematic documentation is still in progress.
The development of new ecological units ("habitats") began in areas of the Park that have been cultivated in the past. These will include plant species of Crete that do not grow naturally in the Park. Two such units, the wetland and the coastal habitats have already been launched.
www.park.tuc.gr/


Area of search
Show all
Regional interest (13)
Sight Seeing (13)
Geography & Nature (3)
Towns & Villages (4)
Beaches (1)
Resorts (2)
Culture (2)
History & Archaeology (7)
Museums (5)
Monasteries (2)
Arts & Literature (1)
Education & Science (3)
Health (1)
Sports & Recreation (2)
Transportation (1)