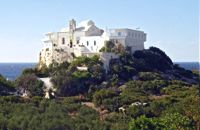 Chryssoskalitissa monastery
Hryssoskalitissa, Kissamos South West
The monastery of Chryssoskalitissa (golden stair GR: Χρυσοσκαλίτισα) is dedicated to the Assumption of the Holy Mother and the Holy Trinity. It is located at the southwest part of Kissamos, 70km away from Chania. The fortress like monastery is built on a rock and pilgrims visiting have to follow a staircase carved on it with 98 steps. According to the tradition, the last one was made of gold but only faithful people could see it.
Image Library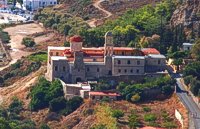 Gonia Monastery & Museum
Kolimbari, Kissamos
The monastery of Gonia (GR: Μονή Γωνιάς) or Panagia Odigitria, is located 1 km north of Kolimbari (along the Spatha penninsula) and 24 km from the city of Chania in a wonderful place with a magnificent view to the bay of Hania. It was built in the 17th century, in the Venetian fortress style, and it is dedicated to the Assumption of the Virgin.
The monastery replaced an older, 13th-century structure, which was located on the territory of an adjacent cemetery.