Nikos Kazantzakis
(1883 - 1957)
One of the most important Greek writers, poets and philosophers of the 20th century, was born in
Iraklion
in 1883. In 1906 he graduated from the Athens Law School and continued his studies in Paris (1907-1909). During the Balkan Wars he fought as a volunteer in the Greek Army. After the Wars he travelled to many European and Asian countries, publishing travelogues from his trips (Spain, Egypt-Sina, China-Japan, What I saw in Russia, England etc.).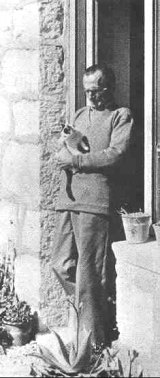 Kazantzakis, much more of a philosopher than a writer, was deeply influenced by the writings of
Nietzsche
and
Bergson
, and the philosophies of
Christianity
,
Marxism
and
Buddhism
.
In his work, he attempted to synthesize these different world views.
In 1927 he published the book "Askitiki", the main work of his philosophy. In 1938, after constantly revising it for 13 years (1925-1938), he publishes his epic poet
Odyssey: A modern sequel
, continuing Ulysses's story form the point where Homer leaves off. This huge poetical work comprises of 33.333 verses.
He became famous, however, during the last years of his life, when he turn to prose. During that time he published, among others,
Zorba the Greek (Vios kai politeia tou Alexi Zorba)
,
The Last Temptation of Christ (O teleftaios peirasmos)
,
Freedom and Death (O Kapetan Mihalis), The Greek Passion (O Hristos ksanastavronetai : Christ is Recrucified )
, and his autobiography
Report to Greco (Anafora ston Greco)
. His book, The Last Temptation of Christ, was considered quite controversial when first published in 1955, and prompted angry reactions from both the Roman Catholic Church and the Greek Orthodox Church.
In 28th of June 1956, in Vienna, he was awarded the International Peace Award.
He died in 1957 in Germany and is buried on one of the bastions of the Venetian fort surrounding Iraklion,
Martinengo
.
In the
Historical Museum of Crete
there is a room devoted to Nikos Kazantzakis. His desk, library, some of his personal belongings as well as manuscripts of many of his works are displayed.
A complete picture of Nikos Kazantzakis life and work can also be acquired by a visit to the
Nikos Kazantzakis Museum
in Myrtia.
To honor the 40th anniversary from his death, a whole range of symposia, exhibitions and other cultural events have been organized, in 1997, in more than 13 countries of Europe and Australia by the "Society of Friends of Nikos Kazantzakis". These events were organized in cooperation with the Museum of Nikos Kazantzakis in Myrtia and with the University, cultural and local authorities. In November 1997 an International Symposium entitled "Nikos Kazantzakis, Crete and the three continents" took place in Iraklion.

The international airport of Heraklion is named after Nikos Kazantzakis.

The 50th anniversary of the death of Nikos Kazantzakis was selected as main motif for a high value Euro collectors' coins; the €10 Greek Nikos Kazantzakis commemorative coin, minted in 2007.