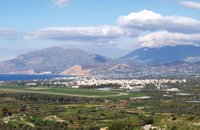 The town of Timpaki ( or Tympaki GR: Τυμπάκι), is located in the west edge of the valley of Messara, 65,3km away from
Iraklion
.
Timpaki is a busy and rich town where early garden produces, citrus fruit and olives are cultivated.
The excellent weather of the area has favoured the cultivation of horticultural plants.
The name of the town is derived from the word "timvos" that means tomb. It is said that the first settlers of the town have come from the nearby settlement of Agios Andreas which was located on a tomb like hill.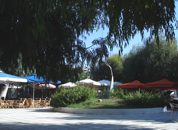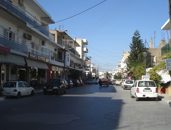 The town provides a full range of modern facilities; banks, post office, doctors office, stores, schools, hotels, restaurants etc. to cover the needs both of the locals as well as of the hundreds of the visitors.
Since 1956 there is an open market ("pazari") at the center of the town every Friday. There, the local producers sell their products, such as fruit and vegetables, cheese, bread, ect.
In 1941 the German invaders in order to settle in the town, forced the residents to leave and burnt all the houses apart from the ones they chose to live in.
The burnt houses were demolished and the stones and other material were used to built the airport.
After the war, the residents returned to their homes and started rebuilding again.
Timpaki belongs to the Network of Martyr Cities and Villages 1940-1945 "Greek Holocausts".
Agios Titos cathedral
Agios Titos is the patron saint of Timpaki. His grace is celebrated on August 25 every year. On this day, the residents organize a feast, which is famous all around Crete and gathers people from all over the municipality and even from all over Crete.
| | |
| --- | --- |
| Agios Titos cathedral | Old Agios Titos temple |
The old holy temple of Agios Titos was destroyed and was rebuilt in1922-25.
It has a wood carven iconostasis with old icons.
A new much larger church has been built just opposite to the old one and is dedicated also to Saint Titus.
The airport
The military (Hellenic Air Force) airport of Timpaki is located to the south and west of the town and was constructed during the German occupation (WWII). It is being used also for sport activities like car and bike racing, sky diving, air shows etc.