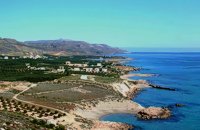 Xerókampos (GR: Ξερόκαμπος) is a beautiful coastal settlement in a place of natural beauty.
The distance from Ziros is 20 km and from Zakros 11 km. The wonderful beaches, the healthy climate and the important ancient places of interest attract both Greek and foreign visitors. The settlement offers a infrastructure of small hotels, apartments, taverns, super markets and supporting facilities.
Xerokampos is an old settlement. It is first recorded in the 1583 Venetian census. The ancients were certainly aware of the beauty of this place and its important position and the site has been inhabited since the Minoan times.
The settlement would appear to have been at the spot called Katsounaki and on Trahilas hill a peak sanctuary already looted was discovered. There are important ancient sites from Hellenic times on the hills of Antisternia and Farmakokefalo.
At Farmakokefalo where the excavations are under the authority of the archaeologist N. Papadakis an important town, mainly of the Hellenistic era was brought to light. It is possible that the town is Ambelos which various literary sources and correlation place in this area of Crete.