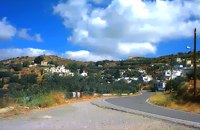 The village of Papagianades (GR: Παπαγιαννάδες) with ~160 inhabitants, is situated in the area of Lefki at an altitude of 480 m above sea level, approximately 90 km from Agios Nikolaos and 19 from the town of Sitia.
It was first recorded in an Egyptian census in 1834 with 8 Christian families. It was also recorded by Chourmouzi Byzantios in 1842. In the 1881 census the village is recorded with a population of 77 pertaining to the Community of Handras.
The Ai Lias hill just before entering the village is of local interest as well as the Monastirakia, a ruined Minoan settlement.
There is also the church of Panagia Eleousa with frescoes dated back to the 14th century. The sightseer can sit and relax at the marvelous Panteli, a place in a gorge with lot of trees, joining the villages of Papagianades and Maronia. The chapel of Virgin Mary is worth visiting as well.