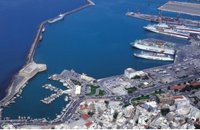 The Port of Heraklion is the main and most modern gateway for the transport of passengers and commodities on the island of Crete.
There are three main companies that connect Iraklion to mainland Greece, Minoan Lines, Superfast Ferries and ANEK. During the winter months there are daily trips from Athens to Iraklion. The trip takes approximately 6 - 9 hours by ferry boat. The ships depart Athens in the evening (10.30 p.m.) and arrive in Iraklion at 5:00 - 6:00 a.m. There is also a weekly trip to Thessaloniki. During the summer season all companies operate also an extra daily trip that departs in the morning from Athens and arrives at Iraklion port in the afternoon. Finally various other companies operate ships connecting Iraklion with other island in the Aegean (Rodos, Santorini etc.). Daily cruises are also offered to the island of Santorini.
Links:
Heraklion Port Management Org.
Minoan Lines
ANEK Sea Lines
Blue Star Ferries