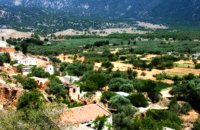 Anopolis is a small village, built on a small but fertile plateau, 12 km west from Sfakia at 600 m above sea level. There are still traces of the ruins of the ancient city that prospered around the 3rd century BC, who's port was Phoenix (Loutro). Ancient Anopolis was one of the thirty city - states that signed the peace decree with Eumenes B' in 183 BC. and thus was able to mint its own coins.
During both the Venetian and the Turkish occupations, Anopolis was a center for revolutionary activities. It is the birth place of the freedom fighter
Ioannis Daskalogiannis
who's statue stands at the center of the village.There are three more small settlements, Limnia, Vigle and Pavliana on the same plateau.
The mountainous landscape is of outstanding wild beauty. In the village there are rooms for rent and a tavern.The village is worth visiting not only for its natural beauty but also for the opportunity to explore the White Mountains. One of the best hikes is to descent to the shore through the ravine of Aradena, a five hour walk through an imposing ravine that ends up to the wonderful beach of Marmara.