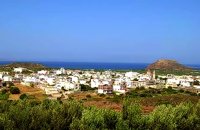 Palekastro (Palaíkastro GR: Παλαίκαστρο) is a lively, unpretentious town, at the east coast of Crete 20 km. away from Sitia and the seat of the Municipality of Itanos. It was named after an old castle. Its sources main income is agriculture and tourism. Although the town is growing, it manages and retain its character and charm. The town's square is the center of activities and is lined with cafes and taverns. Many a pleasant hour can be passed here, watching the world go by. During the summer months, weddings are often held in the village, with the huge wedding feast taking place in the square, to which everyone is invited. A chance to try your hand at Cretan dancing!
The town of Palekastro is an agricultural town which, despite the natural beauty, the historical and archaeological interest, the superb beaches has been unaffected by the mass tourism. There are plenty of working class taverns in the central part of town and plenty of working class people to fill them at night.
The town is slowly being built up as apartment buildings and hotels have sprung from the ruins of the traditional stone family dwellings which have been allowed to collapse in favour of commerce. An enjoyable 20 minute walk through olive groves leads to a number of beautiful, quiet beaches, one of which being at Kouremenos bay, famous with the windsurfers. Europe's largest natural palm grove, bordering the beautiful beach of Vai is just 8km from Palekastro and is well-worth a visit. Set in a rocky landscape 10km from Palekastro, is the magnificent 14th century Toplou Monastery, which is open to visitors and has a rich collection of icons and other treasures, which can be viewed in the museum.
Palekastro with the fertile grounds, important antiquities and marvelous beaches is the liveliest and a greatly developing settlement in the Sitia district. In the town there is a folk museum and many cultural events are taking place.
Nowhere else in the world the Nature and the Myth match so well together. It is remarkable that the habits and rituals worship, the myths and the Legends survive even today in some villages of Sitia!!