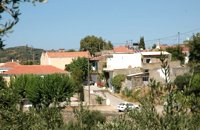 Amariano, a charming small village of 321 inhabitants, (census 2001), lies in the western foothills of Afendi mountain, at an altitude of 530m. It is located at 7, 2 km east of Kastelli and can be found on the road axis; Kasteli -Xidas- Kastamonitsa-Amariano.
With the traditional, century old plane tree in the middle of the village square, with the fountain, surrounded by kafeneions (traditional cafes) serving refreshments; raki (or tsikoudia, the traditional Cretan spirit) and mezedes (tit-bits), Amariano is a typical Cretan village, well worth a look. Until recently, the leather tannery was a main activity among the villagers. The main produce today are olive oil, raisins and grapes, although there is also livestock.
Close by is the church of Agios Giorgos Kefaliotis with good quality wall paintings.
The cultural centre of Amariano organises a great feast on August 15th, the Dormition of Theotokos and on September 20th, day of the patron saint, Aghios Eustathios. This can be a great occasion for any visitor to live an authentic cultural experience, to meet the people and taste the traditional Cretan cuisine.
The first mention of the village -Amariano and Mariano- is to be found in inscriptions dating back to 1394-1399. Fr. Barozzi also mentions it in the region of Pediada in 1577.
The name is significant: Amari is an area close to the town of Rethymnon, therefore the first inhabitants were originally from the Amari region. During the second Byzantine period, this region was known as Apano Syvritos and the name Amari is first mention in Venetian times. This would imply that the village was first founded during the Venetian conquest of the island. The first spelling, Amarianos, is the correct one and the family names Amarianos, Amargianitakis and Amariotis first appear in the 16th century, in the 1583 cencus.