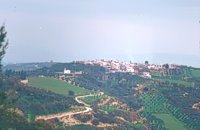 Petrokéfalo (GR: Πετροκέφαλο) lies 16km from Iraklion and 3km from Agios Myron at 340m a.s.l with 248 inhabitants.
It is built on a rocky hillside. The hill' shape resembles to a human head and it is supposed that the village owes its name to this (petrokefali = stone head) .
The settlement was fortified and lately were discovered significant ancient findings.
The patron Saint is "Agia Paraskevi" and there is a village feast on the 8
th
September in her honour.