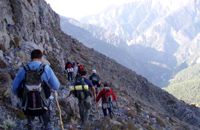 The Mountainering Club of Hania was established in 1930 and is a member of the association of Greek Mountaineering Clubs. The club is actively maintaining the European mountaineering path E4 which starts from Portugal and ends in Kato Zakros in Crete. The activities of the club include mountain climbing, skiing, canoing down the rivers in the Western Crete, speleology and more. Also the club organized the first mountain bike race in Crete in 1993 and intends to organize more races.
Shelters maintained by the club
Location

Altitude

Amenities

Tavris
Plateau of Askifou
1200 meters
Sleeps 42 persons.
"Christos Houliopoulos"
Svourihtis peak at the Central White Mountains
1970 meters
Sleeps 25 persons.
"Kallergis"
Next to the Samaria Gorge
1680 meters
Sleeps 50 persons.
"Volikas"
Volikas Keramion
1400 meters
Sleeps 40 persons.
Address:Str. Tzanakaki 90, 73134 Chania
Telephone: (+30) 2821044647
E-mail: eoshania @ otenet.gr
Website:
http://www.eoshanion.gr